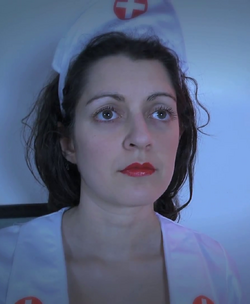 Leah Gallo is a still photographer that worked on several recent Burton films and publications. She is the wife of Burton's producer Derek Frey. Gallo was also the editor of The Art of Tim Burton book.
Biography
Edit
Education
Edit
Leah Gallo attended Villanova University in Pennsylvania, and graduated in 2001 with degrees in biology and psychology.
She also attended the University of Missouri graduating in 2008 with a degree in Photojournalism.
http://journalism.missouri.edu/2008/02/around-the-world-with-movie-director-tim-burton/
Burton films
Edit
Tim Burton's Final Wish for WonderCon 2012
Edit
Still photo gallery
Edit
Ad blocker interference detected!
Wikia is a free-to-use site that makes money from advertising. We have a modified experience for viewers using ad blockers

Wikia is not accessible if you've made further modifications. Remove the custom ad blocker rule(s) and the page will load as expected.