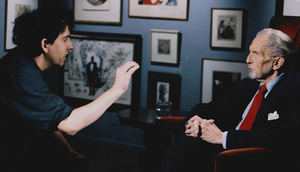 Conversations with Vincent (aka A Visit with Vincent) is Tim Burton's unreleased documentary/long form interview with Vincent Price. The interview was conducted at the Vincent Price Gallery in East Los Angeles College.
It was initially put on hiatus due to difficulty securing licensing for various clips from Price's films.
In 1994, Burton revealed he was still working on the project, now a trimmed down version retitled A Visit with Vincent. It has been speculated that Burton found reflecting on his final interactions with Price too emotionally distressing. The film remains unreleased.
External links
Edit
Ad blocker interference detected!
Wikia is a free-to-use site that makes money from advertising. We have a modified experience for viewers using ad blockers

Wikia is not accessible if you've made further modifications. Remove the custom ad blocker rule(s) and the page will load as expected.