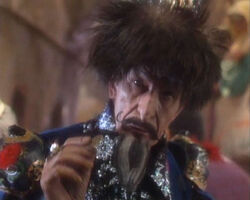 Aladdin and His Wonderful Lamp is a 1986 episode of Faerie Tale Theatre, directed by Tim Burton.
Shelley Duvall as Host, Narrator
Jay Abramowitz as Habibe
Martha Velez as Lady Servant
John Salazar as Servant
Bonnie Jefferies as Green Woman #1
Sandy Lenz as Green Woman #2
Marcia Gobel as Green Woman #3
External links
Edit
Ad blocker interference detected!
Wikia is a free-to-use site that makes money from advertising. We have a modified experience for viewers using ad blockers

Wikia is not accessible if you've made further modifications. Remove the custom ad blocker rule(s) and the page will load as expected.